Event Calendar
NCMF 18th General Membership Meeting & Annual Symposium
Wednesday, October 19, 2016 8:15 am - 3:00 pm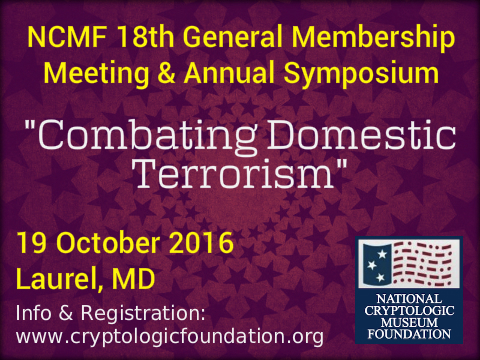 Location:
JHU/APL Kossiakoff Center, 11100 Johns Hopkins Road, Laurel, MD 20723-6099
Description:
The theme of the 18th General Membership Meeting & Annual Symposium is "Combating Domestic Terrorism."

PROGRAM DETAILS

The 2016 program will feature special guest speakers, an expert law enforcement panel, opening remarks from NSA Deputy Director Mr. Rick Ledgett, as well as updates about the Museum, the New Museum Project, the Foundation, and a SPECIAL memorial tribute to three former NSA employees.

GUEST SPEAKERS: Mr. Paul Goldenberg and Mr. John Farmer ......leaders on the forefront of advising our own Department of Homeland Security and their counterparts worldwide as to how to address the ever expanding threats posed by international and homegrown terrorists.

Mr. Paul Goldenberg, CEO, Cardinal Point Strategies, Co-Chair of the DHS Foreign Fighter Task Force and Co-Chair of the DHS Faith-Based Security Council will be joined by his associate, Mr. John Farmer, Professor of Law and Special Counsel to the President of Rutgers University and former Attorney General of New Jersey in providing their unique insights on their work in Belgium and other parts of Europe following the recent terrorism events there. Note that Mr. Farmer was the Senior Council to the 9/11 Commission and wrote a book titled, "The Ground Truth: The Untold Story of America Under Attack on 9/11."

EXPERT PANEL: We also have an exciting line-up of speakers for the afternoon session which will include a notable panel of local law enforcement officials who will bring some exciting vignettes, directly from NSA, the Maryland State Police, and the FBI. The panel will also offer their perspective on protecting Maryland's citizens, property, and information in the wake of terrorism and domestic unrest.

PANEL MEMBERS INCLUDE:
Mr. Kemp Ensor, NSA Associate Director of Security and Counterintelligence;
Mr. Gordon B. Johnson, Special Agent in Charge, FBI Baltimore Field Office;
Col. William Pallozzi, Superintendent, Maryland State Police; and
Panel Moderator Mr. Richard C. Schaeffer, President, National Cryptologic Museum Foundation.

GUEST SPEAKER: Mr. Ronald Lee......a former NSA General Counsel who is involved day-to-day with the challenges of balancing the complicated issues of individual privacy and National Security will speak on protecting the privacy rights of U.S. citizens in the fight against terrorism.

Mr. Ronald Lee, is a Partner, Arnold & Porter LLP and former NSA General Counsel and Associate Deputy Attorney General of the U.S. Department of Justice.

PLEASE NOTE: ALL PRESENTATIONS ARE NON-ATTRIBUTION AND RECORDING DEVICES ARE PROHIBITED.

REGISTRATION AND CONFERENCE INFO
Registration and NCMF exhibits will open at 0800. A continental breakfast will be available from 0800-0900 and lunch will be served from 1200-1300. Speaker presentations are from 0900-1500.

***Please remember to support NCMF book sales - available in the lobby throughout the program. Sales help to support new acquisitions of artifacts for the National Cryptologic Museum.

The program registration fee for members is $30 and the guest fee is $60 which includes a one-year NCMF basic membership. You may register online via the link below, or mail your check, payable to the NCMF, to P.O. Box 1682 Fort George G. Meade, Maryland 20755-9998.

Registration deadline is COB on Friday, 14 October.

Click here for directions to the Kossiakoff Center on our website.
This form stopped accepting submissions on October 14, 2016 5:00 pm EDT.