Event Calendar
NCMF 2014 Pearl Harbor Program
Wednesday, December 3, 2014 10:00 am - 1:00 pm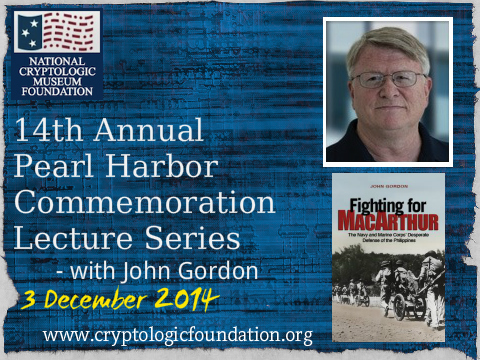 Location:
L3 STRATIS Conference Center, National Business Park, 2720 Technology Drive, Annapolis Junction, MD 20701
Description:
This year's program features scholar Dr. John Gordon IV who will give a presentation based upon his book, "Fighting for MacArthur: The Navy and Marine Corps' Desperate Defense of the Philippines" [2011: U.S. Naval Institute Press] John Gordon IV is a senior policy analyst at the RAND Corporation and a professor at the Pardee RAND Graduate School. (More about our guest speaker below.)

With respect to Pearl Harbor, many historians have focused mainly on the U.S. Army, while stories of the Navy, Marines, and Philippine units remain mostly untold. Dr. Gordon will fill in that gap for us.

His presentation will include first-hand information gleaned from Japanese sources, information that has not been included in previous presentations. He will also highlight the SIGINT contributions provided by collection from Station C, our intercept site on Corregidor (our presentation topic for the 2002 lecture series), as well as MacArthur's failure to use intelligence available to him.

More about our featured speaker......Dr. Gordon joined RAND in 1997 after a 20-year U.S. Army career and has since participated in and led numerous studies for the Office of the Secretary of Defense and the Departments of the Army and Navy. Gordon has authored or coauthored several RAND studies on counterinsurgency and irregular warfare. He has led or participated in RAND research projects for the governments of the United Kingdom, Sweden, Italy, and Germany. Gordon is also an adjunct faculty member at Georgetown and George Mason universities, where he teaches graduate-level courses on counterinsurgency and military operations. He has written numerous articles on military subjects that have appeared in a variety of professional journals. Gordon received his Ph.D. in public policy from George Mason University.

The program will begin at 10 a.m. and will be followed by a book-signing by Dr. Gordon and lunch from noon to 1 p.m.

Fees for the program are $20 for Members and $50 for Non-Members (non-member fee includes a complimentary one-year NCMF basic membership).

Directions to the L3 Conference Center.

Register here online or use the contact information below for more information. REGISTRATION DEADLINE IS 4 PM on 1 DEC 2014.
This form stopped accepting submissions on December 3, 2014 10:00 am EST.