Event Calendar
Wednesday, June 25, 2014 10:00 am - 1:30 pm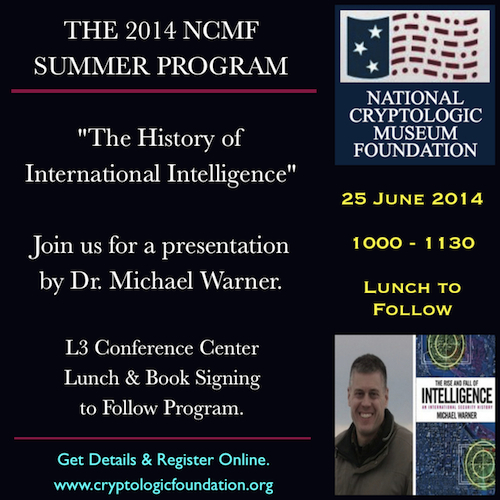 Location:
L3 Conference Center
Description:
Our speaker for the Summer Program will be Dr. Michael Warner who will be speaking on the history of international intelligence from his book, "The Rise and Fall of Intelligence." The program will be from 1000-1130 followed by a book signing and lunch.

ABOUT OUR SPEAKER

Dr. Michael Warner serves as Command Historian for United States Cyber Command (USCYBERCOM). He has written and lectured widely on intelligence history, theory, and reform, and has taught at American University, Johns Hopkins University, and Columbia University. His new book "The Rise and Fall of Intelligence: An International Security History" has just been published by Georgetown University Press.

Dr. Warner earned his doctorate in history from the University of Chicago and served as a military and political analyst at the CIA during the Cold War. After working on CIA's History Staff, he served with the Scowcroft Commission and the Community Management Staff before founding the historical program at the Office of the Director of National Intelligence. He has worked at Fort Meade since 2010.

ABOUT THE PRESENTATION

The world changes intelligence and intelligence changes the world. Dr. Warner will discuss the development of professional, institutionalized intelligence, and examine the implications of the "fall" of the state monopoly on high-powered espionage today and beyond. During the Cold War, only the alliances clustered around the two superpowers maintained viable intelligence endeavors, whereas a century ago, many states could aspire to be competitive at these dark arts. Today, larger states have lost their monopoly on intelligence skills and capabilities as technological and sociopolitical changes have made it possible for private organizations and even individuals to unearth secrets and influence global events. How that happened and what it portends are the topics Dr. Warner will explore.

The program will be held at the L3 Conference Center. The presentation is from 1000-1130 and will be followed by a book signing and lunch. The cost is $20 for NCMF members and $50 for non-members (this includes a year year membership in the NCMF, a $35 value). You can register on-line or mail your registration information and fee to the NCMF at POB 1682, Ft. Meade, MD 20755.

Find directions to L3 in our Education Section under Cryptologic Conferences & Programs.
This form stopped accepting submissions on June 25, 2014 10:00 am EDT.